NX3224F028 – Nextion 2.8″ Discovery Series HMI Touch Display
NEXTION Black Friday Sale:
Buy 2 Get 10% OFF+ $30 OFF on Orders over $199 with Code NEXTION30
Valid Until Dec 10
NX3224F028 is a Nextion Discovery series 2.8" Resistive HMI touchscreen without enclosure and SKU is 6920075776805
• 2.8″ LCD-TFT HMI Display
• STM32GO ARM® Cortex®-M0+ 64MHz Onboard MCU Processor
• Fonts Creator with Versatile Character Encodings
• Low Learning Curve Text-based Instruction Set
• Support 15+ Amazing WYSIWYG Components
• New Nextion Cost-effective HMI Solution
Nextion Editor Overview
Nextion Editor is a free human-machine interface (HMI) GUI development software for Nextion Basic Series, Enhanced Series, and Intelligent Series. The software offers an easy way to create an intuitive and superb touch user interface even for beginners. Add a static picture as a background, define functions by components, you can make a simple GUI in minutes. The easy Drag-and-Drop components and simple ASCII text-based instructions will dramatically reduce your HMI project development workloads and develop projects rapidly in a cost-effective way. The Nextion product is the best balance HMI solution between cost and benefit with a low and decreased learning curve.
Nextion Editor Features

Versatile Character Encoding
With several character encoding, you are able to create the HMI project in your language characters and strings.
Fonts and Text Styling
The font creator allows you to generate the specific fonts applied in each component value or text attribute. e.g.Generate the font of "Arial" with Height "24" and Encoding "UTF-8"
25+Amazing WYSIWYG Components
Easy-to-use components to customized GUI at screen side allow you to develop projects rapidly in a cost-effective way
Component Attribute Setting
The component attribute setting gives you the options to design all the aspects of the component that you need.
Free Simulator Debug
Debug the HMI project at any time even without the Nextion Display.The instruction input area allows you to send any Nextion commands to check the feedback and interactions.
Nextion Operational Commands
The operational commands allow users to program the HMI interactions by coding in Events windows
Text-based Instruction Set
Simple ASCll text based instructions will dramatically reduce your HMI project development workloads
Support Simple Assignment Operators
To handle the calculation and assignment for the text and Numeric data, the simple assignment operators help.
Compared with Basic Series, the Discovery Series has a better MCU performance, with the new image compression technique, the Discovery Series allows more pictures in the same amount of flash compared to Basic and Enhanced models. The operating current of deep sleep mode is as low as 0.25mA which makes the Discovery Series displays more suitable for battery-powered projects.
NX3224F028 Certification and Documents
Additional information
| | |
| --- | --- |
| Weight | 63.8 g |
| Dimensions | 85 × 50 × 12 mm |
| Brand | |
| Model | NX3224F028 |
| Display Size | 2.8″ |
| Resolution | 320*240 |
| Touch Panel | RTP |
| MCU | 64 MHz |
| Flash | 4 MB |
| SRAM | 3584 Byte |
| Input Power | DC 5V 500mA |
| USART Port | XH2.54 4P |
| Storage Temperature | -30 ~ 85 °C |
| Working Temperature | -20 ~ 70 °C |
| Nextion Editor Components | Text, Scrolling Text, Number, Xfloat, Button, Progress Bar, Picture, Crop, Hotspot, TouchCap, Gauge, Waveform, Slider, Timer, Variable, Dual-state Button, Checkbox, Radio, QRcode |
| Character Encoding | ascii, utf-8, iso-8859-1~15, gb2312, ks_c_5601-1987, big5, windows-874/1255/1256/1257/1258, koi8-r, shift-jis |
| Anti-aliasing font | Yes |
| Product Dimensions | https://cdn.nextion.tech/wp-content/uploads/2021/07/NX3224F028_011R.pdf |
Nextion Displays on Digital Bird Camera Motion Control Systems
I have been supplying Nextion 2.8" displays with the Digital Bird camera motion control system for the past year or so and have been very happy with there performance. I selected these displays for three reasons.
1) They allow me to graphically design the interface without the need for cumbersome C++ commands in the main code
2) By handling the display interface independently it frees up resources on the main CPU and only two UART pins are required on the interface.
3) The price point is very good.
I only wish Itead would offer capacitive touch options which operate in the same way.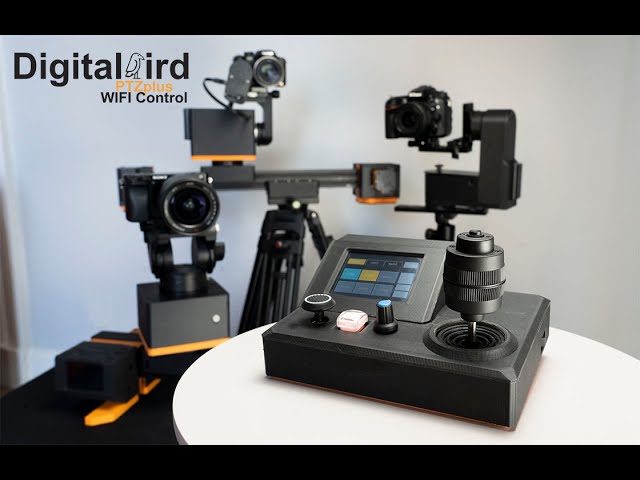 a nice product
I needed to find a very fast and tactile display at an affordable price: It is to make goodies for an association.
The Nextion displays are really easy to use and very practical
I got around the impossibility of using the gauges in transparency by tracing the hands of the clock
the program is written in Basic Bascom and the microcontroller is an AVR128DB28
Smooth migration from 3.2 enhanced to 2.8 Discovery
I needed to move from a 3.2" enhanced to a 2.8" Discovery display. It's a cost sensitive application, the 2.8" discovery seems widely available and offers a good cost saving as I wasn't using any of the enhanced model features. Some tweaking of graphics layout was required due to the change in display resolution. Code is compatible and performance remained fast an responsive. I'm pleased with the move. (Used on LoadMaster PV hot water project - see Arduino Project hub)